Ascletis' mission:Innovative cures liberate life to the fullest. Ascletis is committed to developing and commercializing antiviral, steatohepatitis, and tumor-related innovative drugs for unmet medical needs in China and Globally. Ascletis' vision :To become the most innovative world-class biomedical company.
Led by a management team with deep expertise and a proven track record, we have developed an integrated platform covering the entire value chain from discovery and development to manufacturing and commercialization.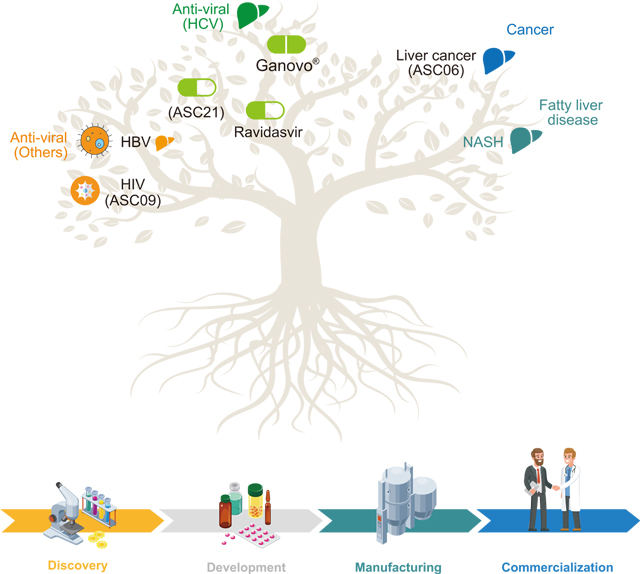 Our Research & Development team has extensive experience in successfully discovering and developing leading drug candidates. We currently have five anti-viral drug discovery and development programs, including two HCV drug candidates near commercial-stage and one HIV drug candidate that has completed a phase IIa clinical trial. In addition, we have a liver cancer drug candidate that has completed phase I and phase I extension clinical trials.
We have a strong track record and high success rate in developing products. We have three HCV drug candidates against three validated targets, of which we have successfully advanced two to phase III completion. Such high success rate is, we believe, a reflection of the capabilities and efforts of our research and development team.
We believe that our integrated anti-viral platform led and guided by our experienced senior management team will expand our operations and deliver sustainable growth in the future. Our platform has enabled us to become a partner-of-choice in China's anti-viral space for global leading pharmaceutical companies, as demonstrated by the high-quality clinical stage anti-viral assets that we have licensed from global pharmaceutical companies such as Roche and Johnson & Johnson.
In preparation for the commercialization of Ganovo ® and ravidasvir, we have spent two years building a commercialization team of approximately 150 members covering four major functions, including sales, marketing strategy, market access/reimbursement and channel/distribution. The majority of our commercialization team members have extensive experience working in leading multi-national pharmaceutical companies like Roche, BMS, GSK, Merck and Novartis in China, especially in the areas of hepatitis C and B .
Our manufacturing facility located in Shaoxing, Zhejiang province with a total gross floor area of 17,000 square metres. The formulation production line has a designed annual production capacity of 130 million tablets. We have obtained the drug production license for our manufacturing facility and CFDA has carried out manufacturing and GMP inspections at our manufacturing facility.