HCV RACE IN CHINA

Armed with positive Phase II HCV data, Ascletis Pharmaceuticals Co. Ltd. may be able to leapfrog Gilead Sciences Inc. to market in China even though both companies are now seeking approval to begin Phase III trials.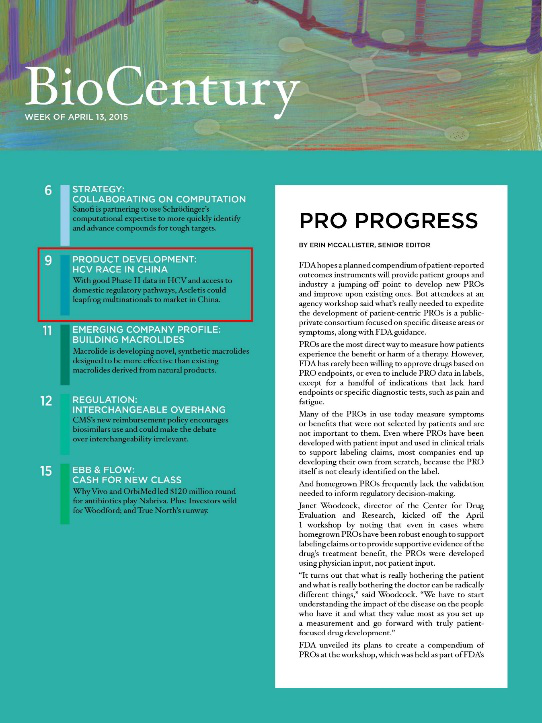 BioCentury Apr. 13, 2015
The reason is that Ascletis can benefit from two regulatory pathways in China: one that expedites approvals to begin trials for domestic companies, and another that could delay submissions of NDAs and BLAs for multinationals by two to four years.
The danoprevir program is being closely tracked in China, because Ascletis licensed China rights to the product from Roche. The deal was one of the first cross-border collaborations to include local manufacturing, which is what allows danoprevir to benefit from China's regulatory pathway for domestic drugs.
The deal was predicated on the belief that danoprevir should work better in Chinese patients with HCV genotype 1 than it had in Caucasian patients, and that the Chinese domestic pharma could expedite its development in China.
Phase II data presented in March showing SVR12 rates of 94% and higher in Asian patients appear to bear out Ascletis' hypothesis that danoprevir will be competitive in Asian patients.
How much faster Ascletis can get the product to market than a multinational company has yet to play out, as both companies must navigate through CFDA pathways to get clearance to begin Phase III studies, and through the multistep processes required for marketing authorization.
RAISING THE STANDARD
In China, standard of care for HCV is 48 weeks of IFN or peginterferon with ribavirin. There are no approved direct-acting antivirals (DAAs), although Gilead, Johnson & Johnson and Bristol-Myers Squibb Co. all have DAA regimens in the clinic.
AbbVie Inc. said its HCV development program "is global, including countries in Asia," but declined to say whether trials are ongoing in China. ClinicaTrials.gov does not list any Chinese HCV trials for AbbVie.
The efficacy of a given DAA can vary among HCV genotypes and races, and directly comparable data have not yet been reported. About 57% of HCV patients in China, or about 30 million patients, are infected with genotype 1b, according to Ascletis CEO Jinzi Wu.
Ascletis in-licensed China rights to danoprevir (ASC08) from Roche in April 2013 after the big pharma discontinued global development. Roche had conducted six Phase II trials but was behind its peers and did not believe the compound would be competitive in the West.
"YOU HAVE TO GRADUALLY ADMIT THAT YOU NEED TO WORK WITH
A CHINESE DOMESTIC COMPANY FOR THE CHINESE MARKET."

JINZI WU, ASCLETIS
"Based on the Caucasian data, we did an analysis and predicted that this drug would have a sustained viral response of more than 90% in Chinese patients," Wu told BioCentury.
On March 13, data from a Phase II trial in 61 patients in Taiwan, Thailand and South Korea showed that a fixed-dose combination of the NS3/4A protease inhibitor and ritonavir given in combination with peginterferon and ribavirin for 12 weeks achieved an SVR12 in 94% of non-cirrhotic patients with genotype 1 infection.
In 30 non-cirrhotic patients with genotype 1b infection, 97% achieved an SVR12. All 16 Taiwanese non-cirrhotic patients with genotype 1b achieved SVR12.
The data were presented at the Asian Pacific Association for the Study of the Liver meeting in Istanbul.
"We had better data than we expected in non-cirrhotic patients," said Wu. "This drug is better for Chinese patients than Caucasian patients."
AS GOOD AS SOVALDI?
Wu said Ascletis expects danoprevir to be at least as good as Sovaldi in China, and better than J&J's Olysio simeprevir. He declined to compare danoprevir to AbbVie's triple DAA regimen or to beclabuvir from BMS.
Also in Istanbul, Gilead presented Phase III data on an IFN-free regimen of Sovaldi plus ribavirin in 31 Hong Kong patients with genotype 1 or 6 infection. The data showed a sustained virologic response in more than 97% of patients. The primary endpoint was SVR12; 87% of patients were non-cirrhotic and 65% had genotype 1b infection.
According to Sovaldi's U.S. label, Sovaldi plus ribavirin and peginterferon produced an SVR12 in 82% of non-Asian (Caucasian, black and Hispanic) non-cirrhotic patients infected with HCV genotype 1b.
J&J has previously reported an SVR12 rate of 89% for Olysio in the Japanese Phase III CONCERTO-1 trial in treatment-naïve patients with genotype 1 infection, but data for genotypes 1a and 1b were not broken out.
At the Istanbul meeting, BMS presented results from the international Phase III UNITY-1 study in genotype 1, but the company did not respond to BioCentury's questions about the data.
Previously reported results from the study in non-cirrhotic patients showed that a 12-week course of a fixed-dose oral combination of asunaprevir, daclatasvir and beclabuvir led to an SVR12 in 92% of treatment-naïve patients and 89% of treatment-experienced patients.
HOME COURT ADVANTAGE?
A big advantage for Ascletis could come in the form of regulations that favor domestic companies over multinationals, which could allow the Chinese pharma to overtake Gilead and other multinationals.
According to ClinicalTrials.gov, a Phase III multiregional trial of Sovaldi in Hong Kong, Taiwan, Korea, Vietnam and China is ongoing. But Gilead told BioCentury it has not yet begun the trial in China, and is "working through the necessary steps" to do so.
The company declined to say whether the multiregional study is still expected to finish by August, the estimated completion date listed in ClinicalTrials.gov. Nor would the company comment on regulatory timelines for Sovaldi in China.
Because danoprevir is considered a domestic drug in China, CFDA has granted the compound access to the accelerated approval pathway nicknamed the Green Channel. The pathway has been known to result in authorization to begin trials in as little as six months, compared to the average 12-18 months wait time.
Wu expects Ascletis' Phase III trial to take 10-12 months to complete.
In addition, in late 2014, CFDA added a step in the regulatory pathway for multinational companies that requires them to submit an additional clinical trial application prior to submitting an NDA or BLA. The path to market for multinationals will now take three applications and three approvals, compared with two applications and two approvals for domestic companies.
As a result, multinationals progressing toward approval via the multiregional clinical trial (MRCT) pathway can expect launches to be delayed by two to four years.
"There is no DAA marketed in China yet, and we have the potential to be the first DAA on the Chinese market," Wu said. "The only risk we have now is the regulatory process in China, so it will take some time until our drug is on the market."
"If we are slow because CFDA cannot review everything in time, then multinationals will be even slower," he predicted.
"Roche has a huge presence in China," he added. "So why didn't Roche do this in China? Because Roche believed Ascletis could do this better and faster in China. We know how to deal with CFDA, we know how to deal with the Chinese market, and we also know how to deal with multinationals and locals."
Wu, a Chinese national who returned to China after working for Western pharmas, including GlaxoSmithKline plc, had this message for the global industry: "You have to gradually admit that you need to work with a Chinese domestic company for the Chinese market."