Ascletis' triple therapy HCV drug nails phase II trial in Chinese patients
SHANGHAI – Upstart domestic biotech Ascletis Inc., with offices in the U.S. and China, is a step closer to realizing its dream of having the first effective hepatitis C virus (HCV) treatment on the market in China. But it is facing a race against time, going up against much heavier hitters such as Gilead Sciences Inc., of Foster City, Calif.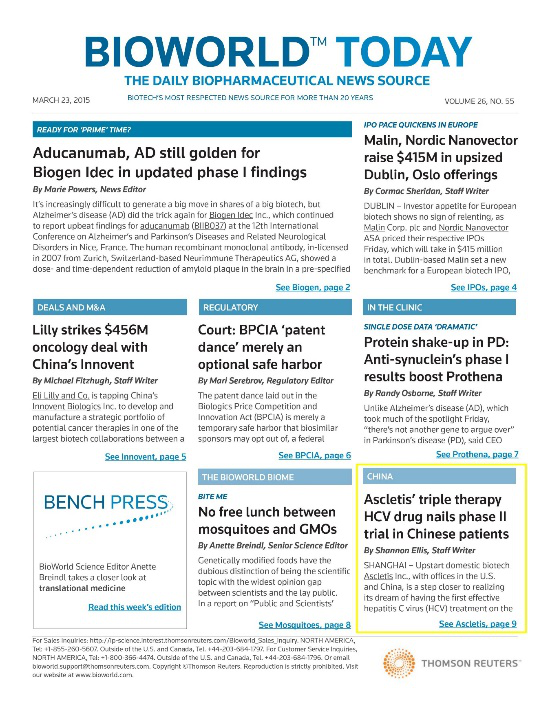 BioWorld Mar. 23, 2015
A protease inhibitor, ASC08 (or dapovenir), was licensed from Basel, Switzerland-based Roche AG in April 2013, giving Ascletis the Greater China rights. At the time, Roche had data in Caucasians and proof of concept, but no data existed in Asian patients.
"When we saw the Caucasian data we predicted in Chinese patients that SVR [sustained viral response] should be better than 90 percent, but we wanted the data," Jinzi Wu, CEO and president of Ascletis, told BioWorld Today.
Now with phase II results on hand from a trial in noncirrhotic patients in Taiwan, Wu said investigators have observed a cure rate (SVR12) of 94 percent after 12 weeks of treatment.
"Basically, we have a huge step here. After we saw these data, it is a big relief and better than what we predicted," said Wu.
Ascletis presented its data at the Annual Asian Pacific Association for the Study of Liver (APASL) meeting where it shared the event's top honors, known as the Choice of
President's, with Gilead Science's sofosbuvir and Bristol-Myers Squibb Co.'s beclabuvir.
A direct-acting antiviral agent (DAA), ASC08 is considered a triple therapy working in conjunction with the current standard of care to speed up and improve efficacy, especially in Asian patients. Currently, there is no DAA on the market in China.
"The study results indicate that ASC08, in combination with peginterferon alfa 2a plus ribavirin, can deliver better cure rate in Chinese patients where genotype 1b predominates, as compared to Caucasian patients where genotype 1a predominates," said Jinhoang Kao, professor and director of the clinical research institute at Taiwan University, who presented the results at the meeting.
In particular, the ASC08 trial showed that in genotype 1 Taiwanese patients the SVR12 rate was 94 percent but in genotype 1b, which accounts for 57 percent of all genotype
patients in Mainland China, the SVR12 rate was 100 percent in noncirrhotic Taiwanese patients. The treatment showed comparable side effects to the current standard of care (peginterferon plus ribavirin).
According to Wu, during China's national liver day on March 18, the government released new numbers, which showed the enormity of the problem in China: It is now estimated there
are 40 million people in China living with HCV. Estimated is an operative word since doctors lack understanding of HCV and it remains highly underdiagnosed. The China numbers dwarf the extent of the problem in the U.S., where there are 3.2 million sufferers. Moreover, the China numbers of HCV patients can change rapidly with rates rising due to modern lifestyle habits and better diagnosis capabilities and awareness.
A DOMESTIC ADVANTAGE
Although the trial was conducted in Taiwan, Ascletis' goal is clearly the huge patient population in China. However, like many companies, there are greater regulatory uncertainties about timelines on the mainland.
Wu emphasized the company's aim is to have the treatment on the market as soon as possible in China, but is vague on the details about when, perhaps not wanting to give away too
much to the competition.
Having such strong data on Chinese patients he hopes will help to improve the case with the local regulators who view having data on Chinese patients a priority.
"First, our confidence is increased that this drug works in China in Chinese patients, even better than in Caucasians," Wu said. "Second, [the data] will help us to accelerate clinical
development in China."
Another factor when Ascletis looks over the shoulder at the big boys is that Wu, as a member of the 1,000 talents programs, a government program to lure top level returnees back to the
mainland, and his company is considered a local company.
"We are all competing for the China market," said Wu, "but we have certain advantage as a domestic company."
Before Ascletis, Wu was vice president of global HIV drug discovery at Glaxosmithkline plc, based in Research Triangle Park, N.C. Ascletis has offices in Research Triangle Park as well
as in Hangzhou and Shaoxing, both in Zhejiang province. Last fall, the firm announced the construction of a cGMP facility in Shaoxing.
Wu and his team's global contacts have helped to sign China-focused deals with a nice roster of big pharma, including an HIV protease inhibitor deal with Johnson & Johnson-owned Janssen Biotech Inc., an agreement for a liver cancer drug targeting VEGF and KSP from Cambridge, Mass.-based Alynlam Pharmaceuticals Inc. and, most recently, a deal for another HCV candidate, an NS5A inhibitor from Presidio Pharmaceuticals Inc., of San Francisco. (See BioWorld Today, Nov. 19, 2014.)
In describing how the two HCV candidates work together, Wu said, "we put the two together to have synergy. The objective is to have an oral interferon-free regimen. . . . Our two drugs together offer an interferon-free regimen. We have two drugs for patients with different needs in China."